Attracting the Best Tenants
We recently sat down with Mark Tergesen of ABS Partners Real Estate to discuss his thoughts on how landlords, managers and brokers can best market their retail spaces to attract the best tenants.
---
What are some current trends in the New York retail market and how are you responding to them?
Large blocks of space, often times banks or pharmacies, are being chopped up into smaller spaces.  Retailers and restaurants are learning to do more with less as technology, mobile, e-commerce continues to have an effect on retail.  As well, Landlords are learning that dividing space can result in an increase to their bottom line as well as offers diversity in tenant and cash flow. We like the idea of not having all the eggs in one basket unless that basket is filled with Apple or Sephora goods.
How do you target your ideal tenants and their brokers?
Increasingly, we utilize detailed plans offering potential division options.  CAD files are important and have really become the norm so we recommend developing new plans for any meaningful retail space right off the bat.  We'll also utilize renderings in order to paint the picture of what we believe to be the end game. It helps when retailers and their brokers can see themselves at the site.
What can landlords do to better market their spaces?
A lot depends on the physical attributes of the space but in general we like to showcase space as a white box ready for Tenant construction. Bright temporary lighting should be installed and kept lit at all hours. Storefronts and HVAC are case by case.
"…look at the cost of one month's rent. A rendering is likely a fraction of that."
What type of business is your ideal retail tenant and why?
First you have your majors such as Sephora & Apple – who wouldn't want that?  That said, there's only a select number of properties that command them. I like tenants that can offer something to the residents of the building and have a positive effect on the values of the property such as fitness, healthy food, a well-appointed market or wine shop.  A tenant's look and feel is important to the ground floor of a building for obvious reasons.
Are there any trends or frequent requests that you're seeing from these tenants?
It depends on the area but with so much QSR (quick service restaurant) activity, venting and gas are becoming common requests.  Electrical power requirements, storefronts, and HVAC are always on their list.  Using an architect to change the legal use of a space, from say retail to restaurant, can be worth the investment.
"..we recommend developing new plans for any meaningful retail space right off the bat."
What architectural features or improvements are most attractive to that ideal tenant?
High ceilings, strong frontage, prominent signage capability, and column spacing are important to many retailers. Demolition is cheap and necessary. Storefronts and/or awnings make sense if the property contains many stores where an owner wants to pre-sent a consistent look. Done right, it creates a brand for the building.
Should landlords invest in designs and renderings to attract tenants?
Absolutely! I always say look at the value of one month's rent. A rendering is likely a fraction of that. If you can cut down the time to leasing by even a few days, you've made that back. Sometimes a rendering is the difference between getting an offer or not.
Mark Tergesen joined ABS Partners in 2009 as the Managing Director of the Retail Services Group and represents some of Manhattan's most prestigious landlords. He has executed transactions with a host of the best known national and regional retailers including Sephora, Elizabeth Arden, Chase Bank and Rothmans. He and his team oversee in excess of 500,000 square feet of ground floor retail space and are currently representing over 150,000 square feet of available retail space throughout Manhattan, Brooklyn, and the Bronx.
RENDERING FOR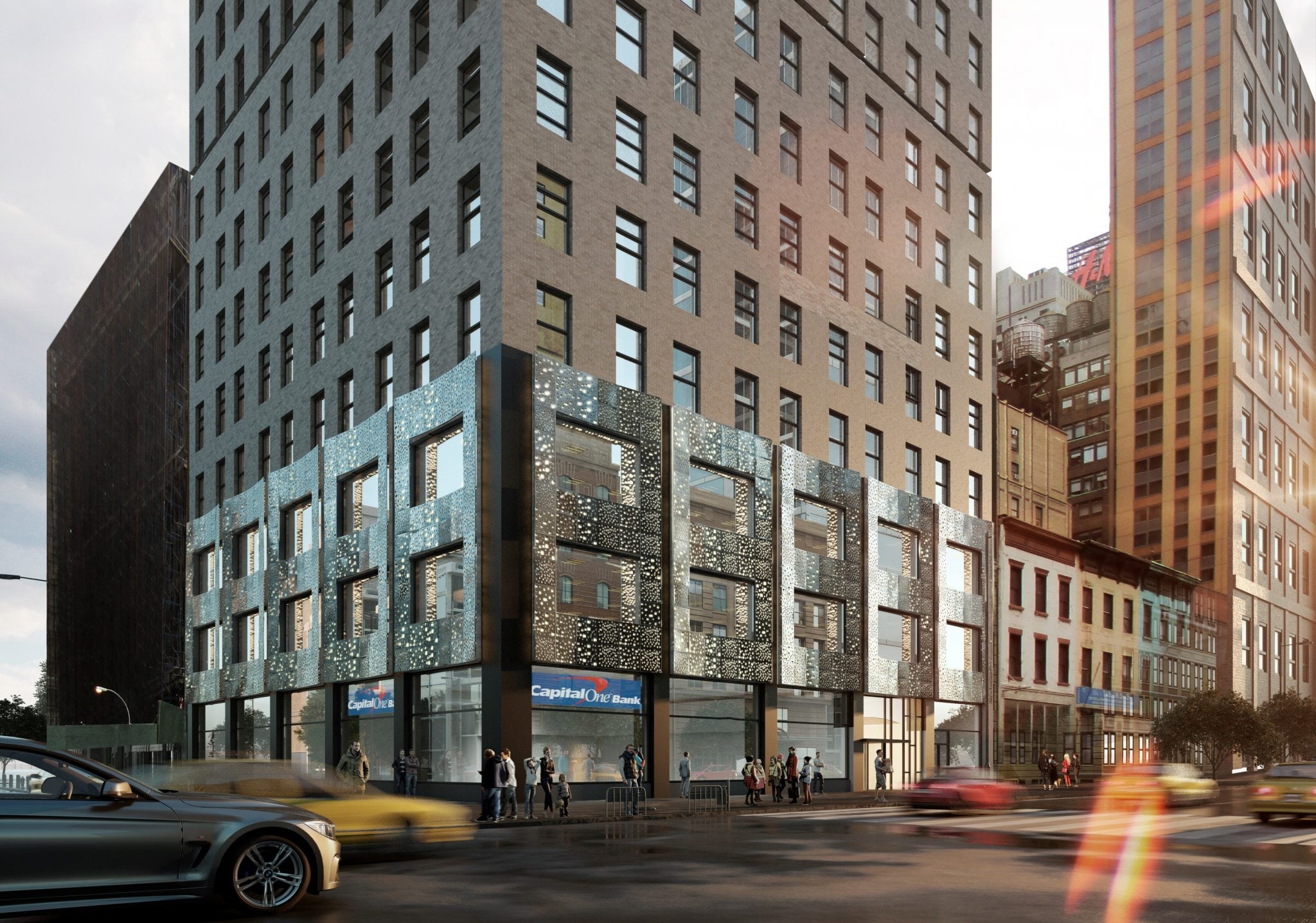 1001 Sixth Ave. New York, NY 10018
Client:
Regency East
Design Rendering:
DE LA GARZA ARCHITECTURE LLC
Managing Agent:
Irina Besser Orsid Realty, Inc.
Broker:
Mark Tergesen ABS Partners Real Estate, LLC
General Contractor:
Hudson Black, Inc.